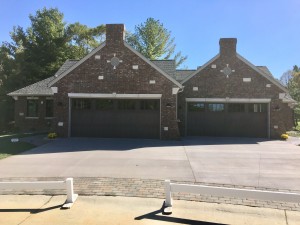 This impressive villa has 3 bedrooms and 3 bathrooms. What is there to love about this exquisite home?
YARD MAINTENANCE, snow removal on sidewalks and driveways, grass mowing, planter and sprinkler maintenance.
EXTERIOR MAINTENANCE, annual window and gutter cleaning, and roof maintenance.
LOVE IT, LOCK IT & LEAVE IT. Enjoy living in a luxurious home, having the comfort and security to leave for extended periods knowing your maintenance is regularly scheduled. These homes are over 3,000 square feet with 75% brick, LP hardboard siding, Andersen windows, and composite decking. All interior finishes are equally consistent to the upscale exterior.
The Villas of Eagle Rock are located at the intersection of Esic and University Drive in Edwardsville, Illinois. The Villas are your passport to a new lifestyle designed to enhance your personal freedom and enjoyment of life. Enjoy condominium maintenance and convenience features along with a home designed to be a joy to own.
Eagle Rock is located just 200 feet from the extensive Edwardsville bike trail system, and one block from the popular YMCA, a few minutes from SIUE and the heart of downtown Edwardsville.
The rich character of the homes and the park-like environment of the community reflect a commitment to create a neighborhood everyone will love to call "home".
The Villas of Eagle Rock are being built by custom home builder, Jason Krapf, of JK Companies. Eagle Rock will reflect superior quality along with a condominium lifestyle.